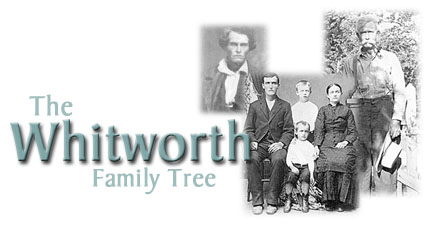 The Whitworth Family Association has released a 650-page book highlighting the history of the Whitworth Family. Included is a 7-generation descendancy chart of John Whitworth, born about 1673. The book features a hardback cover with handsome red and gold lettering.

Cost is $40 for members of the Whitworth Family Association and $69.50 for non-members. Shipping is included.

For more information, contact:
Patricia A. Reeser
1216 N. Elm Street
Henderson, KY 42420
270-869-8201
pareeser@home.com

This site is the compilation of the work of Dean Whitworth.
For information, send your email
to wdwhitworth@juno.com.